I think I can comfortably say that 2018 has been the year of buying and trying concealers! I've been battling with my dark circles since I can remember. I think I first started using concealers, or whatever it was called back then, at the age of 14. Some might not be surprised by this, considering the fact that nowadays there are probably makeup gurus at that same age, making it big. However, back in 2004, it was quite uncommon and, dare I say, provocative to wear any sort of makeup that wasn't a lip balm. Yet, I was left with no other options as my dark circles were just adding to the endless list of mockery and bullying I've experienced when I was little. Thus, I started using concealers.
For years I've been settling for what was on the market, but the beauty industry has revolutionised so much that I had to try whatever I could in order to find that perfect concealer. And 2018 has really been the year of trial and error, but I've picked the best of the bunch. Ahead, 4 of the best (or nearly best) drugstore concealers for dark circles!
Makeup Revolution Conceal & Define Liquid Concealer

You probably haven't heard about this one, right? It's not like it was featured by literally every single beauty blogger and YouTuber this year? Oh, wait, it was… My bad then – you most probably know this concealer. The concealer for everyone, as described by Makeup Revolution. Furthermore, it was agreed by everyone, more or less, that it was an amazing dupe for the Tarte Shape Tape Concealer. Actually, some even admitted it to be better than the Tarte one! The only difference between the two? Well, the Makeup Revolution Concealer will cost you a little less. £18 less to be precise! Thus, for £4 each, it was a no-brainer that I had to try it out!
The Makeup Revolution Conceal & Define Liquid Concealer comes in 18 shades, ranging from fair to deep, in cool, neutral and warm undertones. It claims to be lightweight, yet providing full coverage for blemishes, evening skin tone and counteracting dark circles. Moreover, it has a matte finish that won't set or accentuate fine lines and pores. It can also be used to contour and add definition. The Revolution Concealer comes with a large doe foot applicator for a smooth application that won't drag on the delicate skin under your eyes. Although there are 18 shades to choose from, none quite matched my skin tone, thus I got two shades – C7 and C8. Mixing both shades was not a problem but I found the consistency to be quite chalky. Upon application, it dries out quickly and actually settles into your fine lines, even if you don't really have any. It does cover your dark circles, but you end up looking like a walking dry chalkboard under your eyes. Honestly, I wouldn't buy it again. Personally, I think it is overhyped. I was actually quite disappointed with Makeup Revolution, because I really like some of their other products.
L'Oreal True Match Concealer
The new L'Oreal True Match Concealer is the concealer of my dreams! I have no idea how I didn't know about it. I only started seeing ads on the TV and online once I had already bought the product! Well, for seeing ads online, there is a fairly simple explanation: Google and its annoying cookies! Branded as #TheOne that can do it all, the new True Match Concealer corrects skin tone, conceals imperfections and hides signs of fatigue. Moreover, it is enriched with caffeine to instantly brighten the eye area and fight dark circles over time.
The applicator is pretty small, but I see no problem with that, considering the fact that nobody uses it to blend their concealers. The texture is quite liquid-y but glides on smoothly once applied. Although it seems like you'll need a lot more of the product to cover your dark circles, surprisingly only 2 to 3 drops should suffice. It almost feels like you don't have the product under your eyes, it is that lightweight! What I really like about the L'Oreal True Match Concealer is that it is not a matte finish and it will never settle into your fine lines. If you like lightweight concealers with high coverage, then I strongly recommend the True Match Concealer!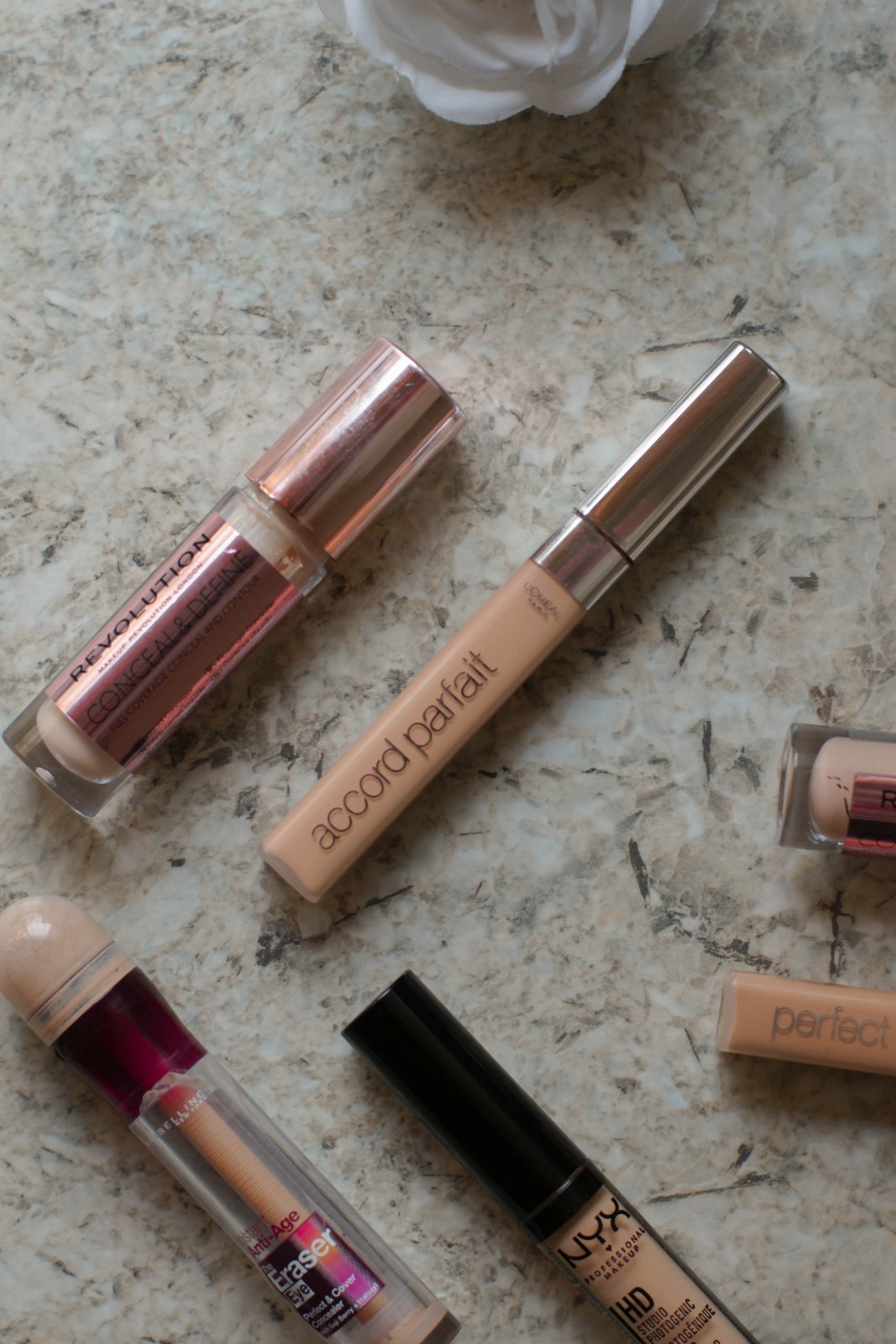 Maybelline Instant Conceal Eraser Concealer

The Maybelline Instant Conceal Eraser Concealer has been my go-to concealer prior to finding the L'Oreal True Match one. It is a winner of Allure's Best of Beauty Award and Spring Beauty O-Wards. This concealer for dark circles and fine lines instantly creates a radiant, refreshed looking eye area. Moreover, it is infused with goji berry and Haloxyl to reduce and lighten your dark circles.
It comes with a slightly different applicator – a soft sponge-like one, featuring an anti-microbial system, meaning you shouldn't wet it! You get the product by slowly turning the head of the applicator until you see little dots of the concealer coming out. However, if you're highly impatient like me and you start twisting the head quite vigorously, then you'll end up with a lot of the product just sitting on top of the applicator. I find the texture of the Maybelline Instant Conceal Concealer to be somewhere between matte and creamy, making it perfect for long-wear foundations. It is quite refreshing, doesn't cake and it stays all day long!
NYX Professional Makeup Concealer Wand
The NYX Professional Makeup Concealer Wand is quite a new experience for me. The NYX Concealer is lightweight and covers imperfections, discolouration and under eye circles, without looking cakey or obvious. Actually, according to NYX, the HD Photogenic Concealer Wand is one of their best-sellers. I've only tried it once, but the outcome was more than positive. The concentrated emollient-rich formula goes on like a dream. You can create medium to heavy coverage. The concealer comes in 17 shades including lavender, green and yellow colours. You can use the lavender for sallow skin, the green to help reduce the appearance of redness and the yellow for under-eye darkness.
Personally, I feel like this is a good option in case your favourite concealer is out of stock. And for £6, you'll hardly regret buying it! Another good-priced concealer is the Collection Lasting Perfection Concealer!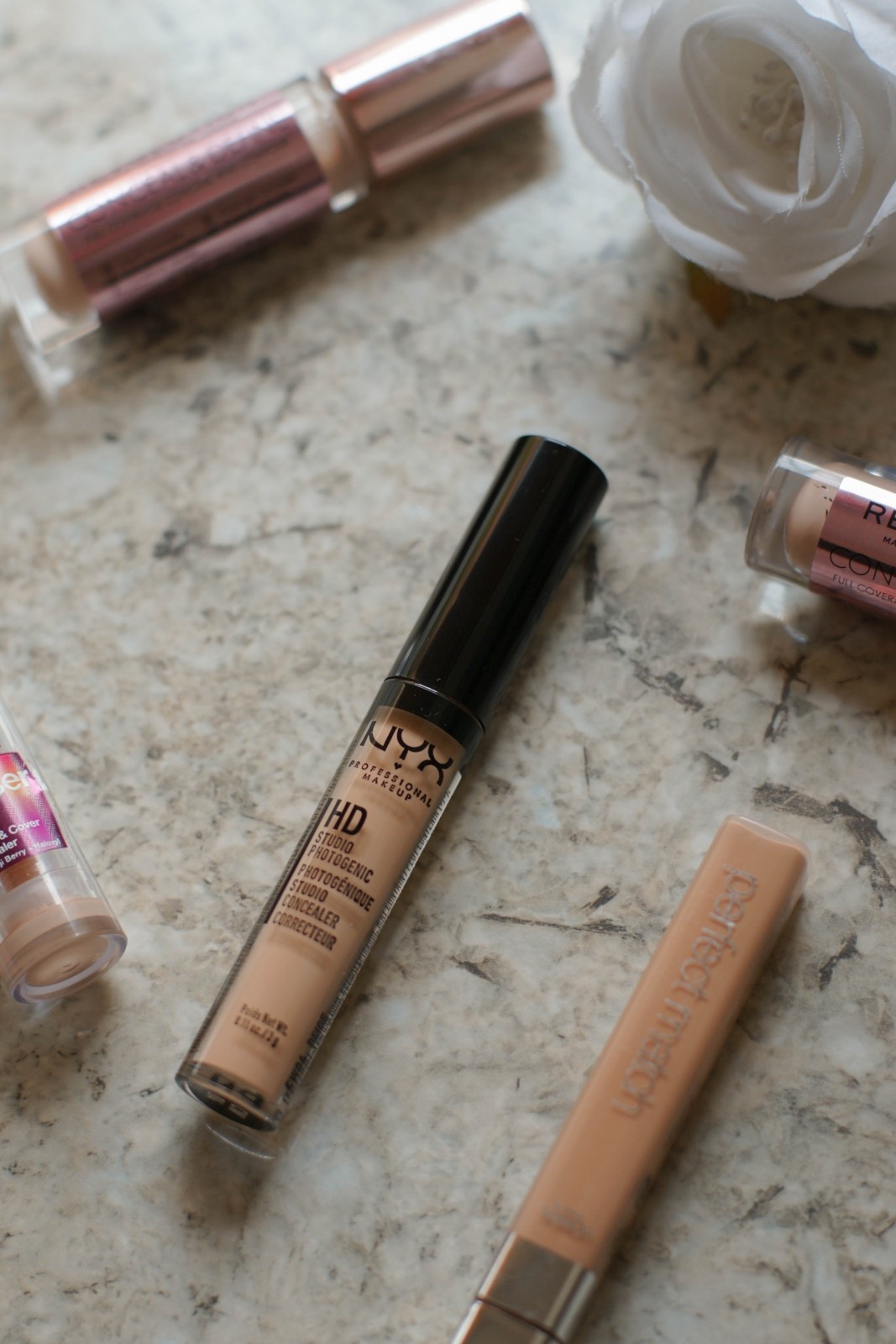 Have you tried any of these?
Click here for more makeup product reviews!
YOU MIGHT ALSO ENJOY:
Are These Makeup Revolution Products Worth Buying?
Drugstore Concealers For Dark Circles I've Tried In 2018