Nowadays, plastic surgery is advanced, and girls only need to go to the plastic surgery hospital for an operation to become beautiful. Thus, we end up with many good-looking females, but few girls with an outstanding temperament. Why?
Because the delicate facial features can be obtained through technical means. Temperament is invisible and intangible, and it is difficult to obtain thorough medical technology.
Although intangible things like temperament are rare, there are still many elegant girls in life. Among these people, some are naturally elegant, and some are shaped through long-term life training. If you don't belong to the former and don't have time to train, how can you get an elegant temperament? Well, there are a few ways!
To make themselves more attractive, many girls tend to focus on their facial appearance, but forget the importance of dressing well. There is an old saying in the East: People rely on clothing, and Buddha relies on gold.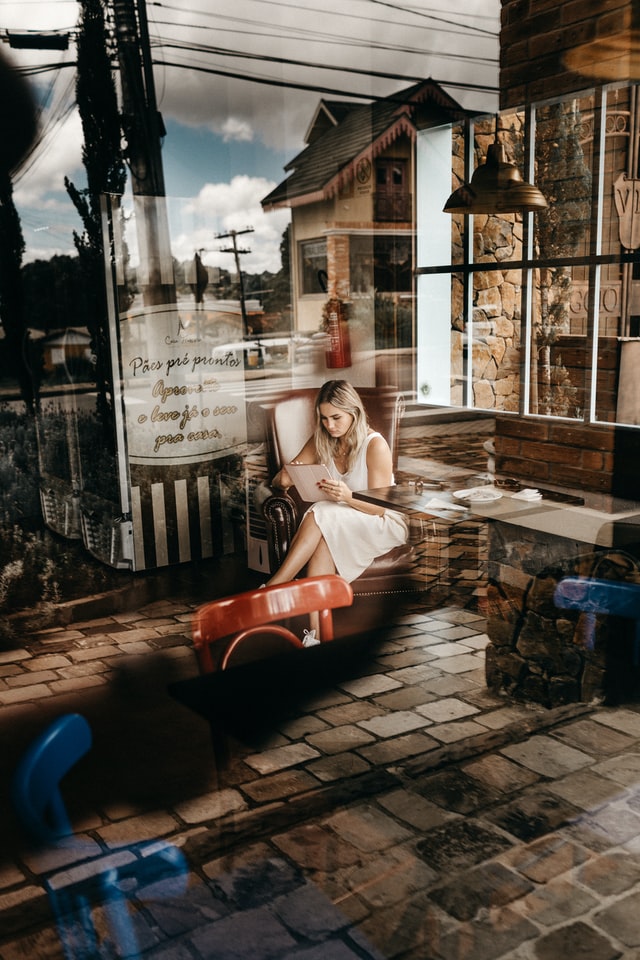 Regardless of your status, as long as you choose the right clothes, you can get the effect you want to receive. The same is true for the elegant temperament. If you want to look and feel elegant, sophisticated, yet elegant, you can always opt for classy and stylish dresses. Let's take a look at some elegant styles!
Side Slit Ruched Sleeveless Maxi Dress
For a long time, black dresses have been the preferred choice to express an elegant and sophisticated temperament. Some people may think that a simple black dress is easy to wear and delivers a boring conservative image, yet this dress is very sophisticated. This beautiful dress will suit all body types. It is made of beautiful material, and it gives out a very elegant look. This season, Sherri Hill has also launched an extensive range of beautiful, blue formal dresses, which you can see here.
It uses a lace material, which is completely different from chiffon and cotton soft fabrics, so it adds a bit of roughness to the surface of the skirt. When the colour of the dress is very bright, the rough material of the dress will give people a sense of cheapness. On the contrary, when the colour of the dress is monochromatic, the rough surface of the dress expresses uniqueness. It not only allows you to get an elegant image but also a certain sense of sophistication through the unique design.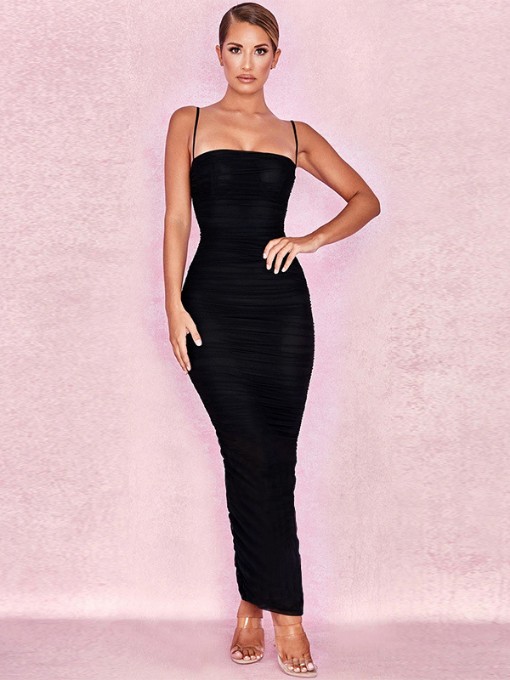 Stylish Patchwork Long Sleeve Midi Dress
The second style of a maxi dress is also black, yet, its design is more complicated than the former. This type of dresses consists of a shirt and a skirt. This design is neither too formal nor informal. The combination of the shirt and the skirt also deliver an elegant image through a unique design. If you want to look and feel like a woman who knows what she wants, I recommend you to choose this dress.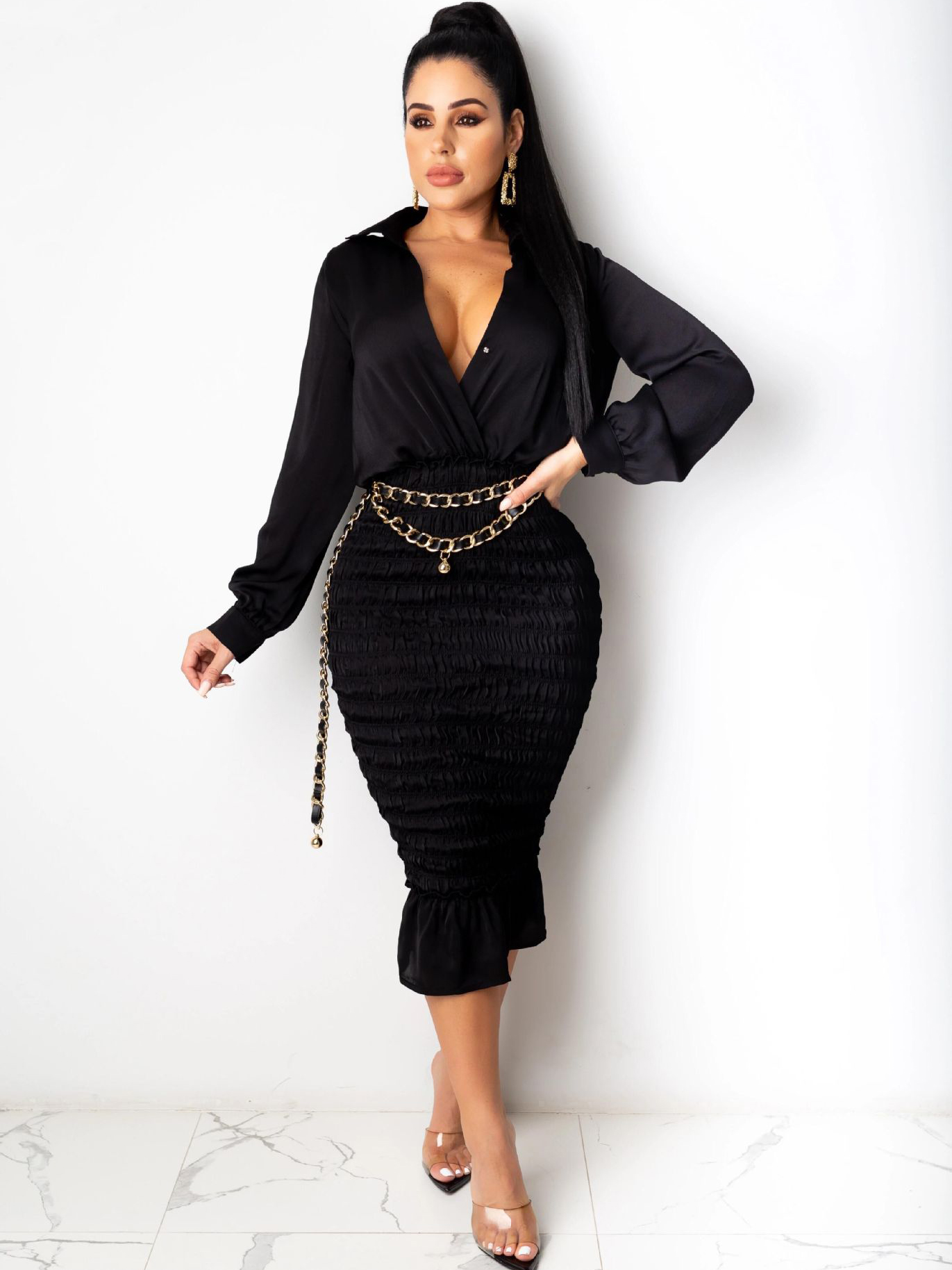 Shiny Rhinestones High Neck Party Dresses
The high neck party dresses can also express your temperament, but its design pays more attention to details. First of all, its upper body is a more eye-catching sequin design, with low-key luxury. Secondly, the version of the lower body is a bit like an irregular fishtail skirt, and the swing of the skirt when walking will add a bit of playfulness. In addition, the skirt of the lower body is a high-waist design, which can raise the waistline, thus, achieving the illusion of a slimmer figure. Girls who are looking for a distinctive outfit must not miss it.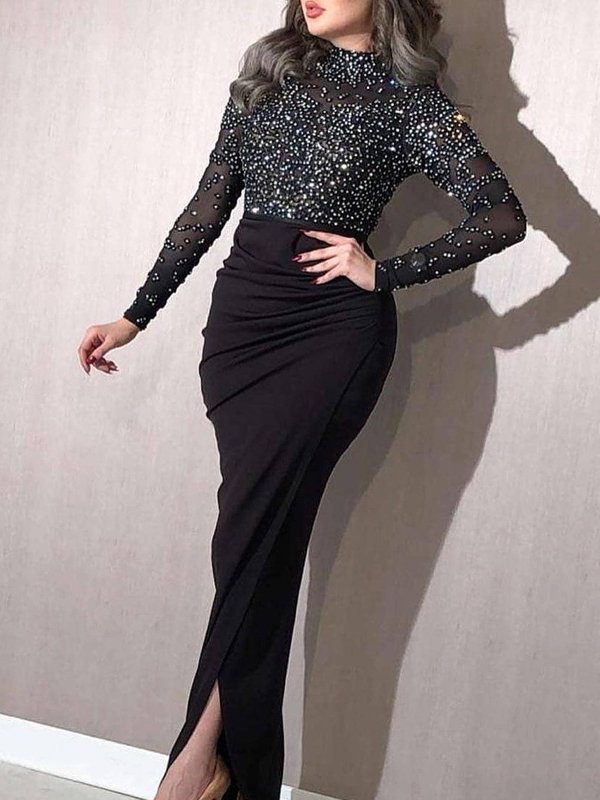 V Neck Cut-Out Slim Dress
Apart from the classic black style, we can also choose a dress with gentle colours, like this light brown dress. The gentle light brown will not give people too much offensive power, and the tight design of the skirt protrudes the graceful curves of women, so girls can easily achieve an elegant feeling. Also, compared to the first dress, this design is more exposed, and it can add a little bit of sexiness to a woman's look. Girls can have both elegant and sexy temperament at the same time, which is a rare advantage in social circles.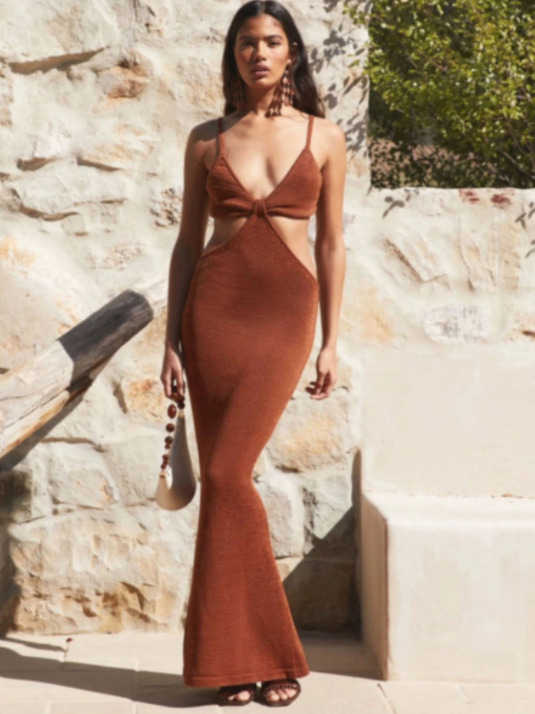 Deep V Neck Long Sleeve Dresses
The design of a V-neck always makes us associate it with sexiness, right? Well, not always. For instance, you can choose an apricot V-neck dress. Apricot is a very gentle and elegant colour, coupled with the knit design of the dress to maximize the lazy style, it is difficult for us to associate it with sexy. If you have not tried this style, I suggest you give it a try.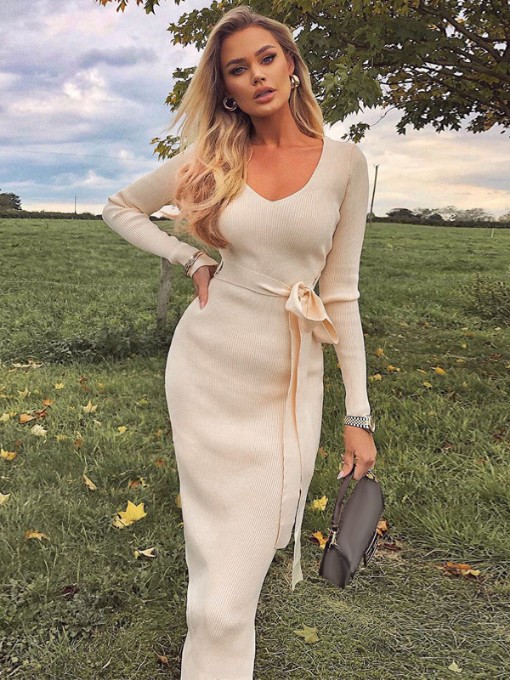 Leopard Print Long Sleeveless Maxi Dress
The wild leopard print series dress does not seem to have much to do with elegance. Do you think so too? Well, you can always try a maxi dress with leopard print elements. This leopard print dress is a simple style. It uses a soft cotton fabric with great elasticity so that it fits tightly without actually feeling tight. Aslo, the length of the skirt is almost down to the ground, so it is a bit similar to an evening dress. Thus, you can easily get a sense of elegance.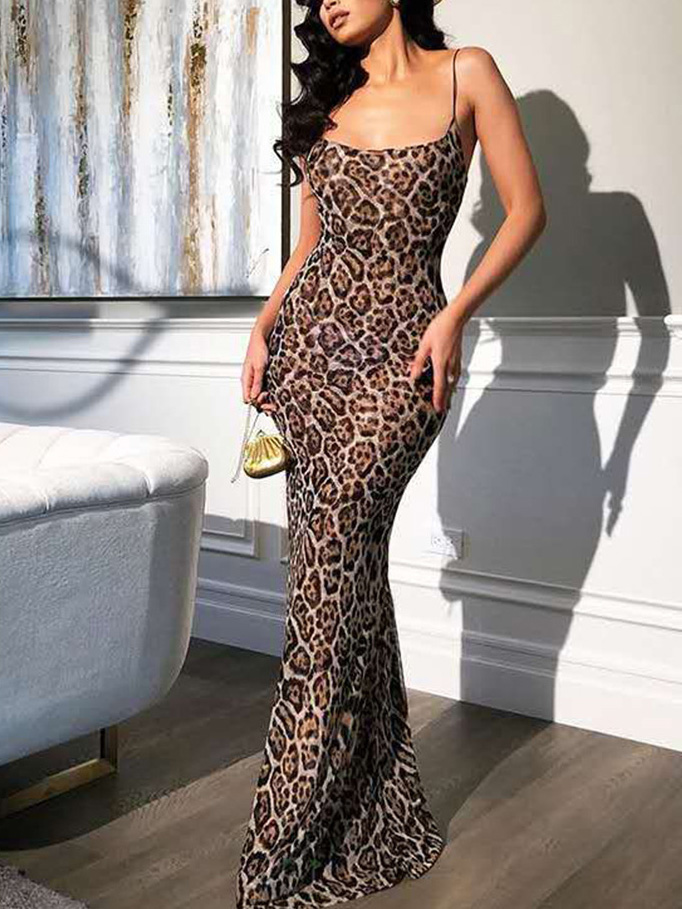 Casual Monochrome Long Sleeve Maxi Dress
If you want to maintain unconventional elegance, women must wear conservative styles. What is conservative? Being conservative means that we need to hide the sexy parts in order to appear more dignified. This blue long-sleeved dress can meet our needs. It shows neither thighs nor shoulders, which can be said to be quite conservative. At the same time, the skirt is designed with wavy lines on the edges and in the centre, so its silhouette can make even the most conservative temperaments feel unique.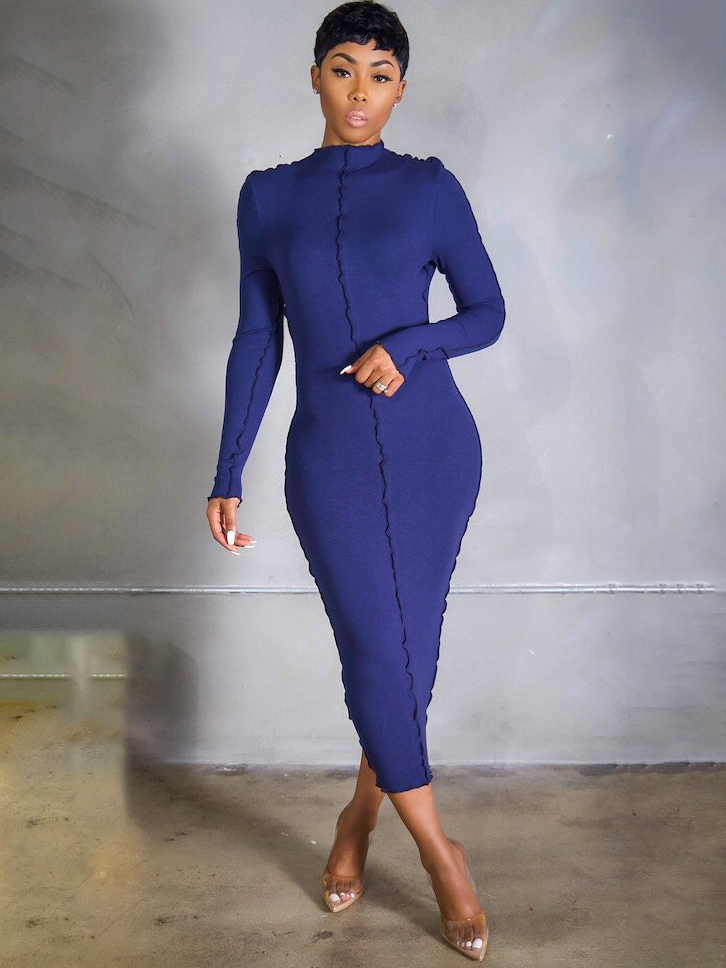 Low Cut Red Puff Sleeve Midi Dress
I have to say that the red dress is my favourite. This red dress uses a very high-quality chiffon fabric, which makes the shape of the skirt casual, yet, elegant. And the neckline of the dress is designed as a square collar, coupled with the design of puff sleeves, it looks very dignified and classy. This type of dress is perfect for the bold and out-there temperaments.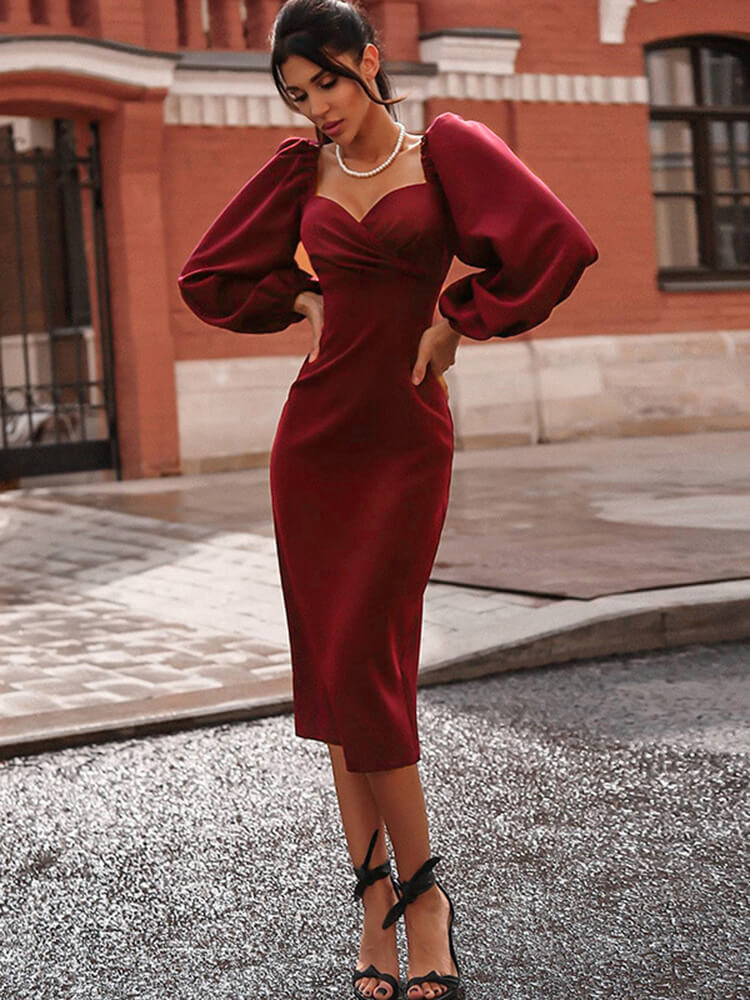 In short, elegance does not need to be acquired by reading a lot of books, and temperament can be expressed just by wearing the right type of dress. Sometimes, we often only need a few tailor-made elegant maxi dresses to do it. Why won't you have a try?
Wholesale 7 is one of the best-quality cheap clothing stores, selling lots of wholesale clothing in China. The products sold on this platform not only include many beautiful and elegant maxi dresses, but also wholesale women clothing. The price of these clothes is generally ten dollars or even lower. Now, Wholesale 7 is holding a year-end clearance sale, selling products at low prices, hurry up and join them!
YOU MIGHT ALSO ENJOY:
Styling Ideas To Be Always Picture Perfect
3 Ways To Wear Polka Dot This Summer
These Floral Dresses Will Make Your Summer Even Hotter
3 Pinafore Dress Styles You Need To Try Right Now
A Faux Fur Longline Coat For Your Winter Wardrobe