Have you ever seen a Japanese woman with anything less than a perfect skin complexion? Personally, I haven't! I've always admired how good their skin looks and wondered what in the name of skincare Gods (if there are any!) are they using?! Actually, now when I think about it, Asians as a whole have an amazing complexion. It just makes you think whether they are blessed with that type of genetics or are they using something that the average person is completely unaware of? For instance, remember that Korean beauty hack – jamsu – that took over the internet back in 2017? For those of you who somehow missed the news, jamsu is essentially dunking your face in ice-cold water to prolong the wear of your foundation. YouTubers from all over the world were making videos of their take on the Korean beauty hack. Although I haven't tried this technique, it made me very interested in the Asian skincare and beauty routines. Thusly, I started my search and it didn't take me a lifetime before I came across Daigaku Honyaku Center – DHC! I quickly took the plunge and 'bagged' two of DHC's products in my shopping basket and today I'll be giving you an honest review.
Who are DHC?
Before that, let's have a look at who DHC are. According to the information on their website, it all started back in the 70s with a young businessman named Yoshida. He owned a popular education company in Tokyo and believed knowledge is the key to enlightenment. Yoshida's natural curiosity about the world beyond Japan took him to Europe. He went to Spain, where he met an olive farmer whose family had been producing the highest grade of organic oil available for more than 200 years. That is when Yoshida made the connection between traditional Japanese herbology and the antioxidant properties of olive oil, thus a new skincare philosophy was born.
Fundamentally, DHC's entire line is founded on the principles and benefits that virgin olive oil can give you. Sourced from organic Spanish olives, the oil is extracted from the crush before the first cold pressing, then carefully filtered in DHC's labs in Japan. The result is the premium, non-comedogenic, organic virgin olive oil. The company is also driven by the concept in traditional Japanese aesthetics known as wabi-sabi. Derived from a Buddhist teaching, it's described as finding beauty in imperfection and it's how DHC see beauty. Hence, all of their products are made of naturally sourced ingredients to help you achieve that inner beauty and love your skin and all its perfectly imperfect distinctions. As DHC say: 'Your idea of beauty is entirely your own.'!

The first product I got my hands on was the DHC Face Wash Powder. Here is the time I should be straight and let you know that I've never used a face wash powder before. I didn't know what to think of it but the reviews were beyond amazing, so I thought I should give it a try. Firstly, I took a good look at the bottle. I was a bit sceptical as to whether it will keep the powder dry or damp. Gladly, even after months of using it every single day, I'm pleased to say that the powder has kept its original texture and moisture hasn't affected it even the slightest. Now onto the important stuff – does it do what it claims? According to the label, DHC's Face Wash Powder is formulated with exfoliating protease enzymes, which help to dissolve the bonds of lifeless, dulling skin cells. This gentle cleanser is also packed with honey and sodium hyaluronate to help soften skin. Other key ingredients include lavender and liquorice root extract which soothe skin.
In order to get the powder 'working', you'll need to mix a small amount with water. When I say a small amount, I really do mean it. Two pea-sized 'drops' are enough to transform the face wash into a dense mousse texture. Once combined, massage the DHC Face Wash Powder into your face. There is no limit to how long you should do it. I usually stop massaging once I feel my face is clean, after which I rinse thoroughly. Personally, I find the powder to be quite amazing in terms of cleansing your skin. It really does remove impurities and dirt from your face. I've even tried the powder with makeup and it removes it quite nicely. My skin feels clean, fresh and soft after using DHC Face Wash Powder. So, yes, it does what it claims to do and 50 grams will last you months!
The second product I thought I should try from DHC was the DHC Eye Bright Depuffing Gel. I wasn't expecting a lot from this eye gel but once I tried it… oh my…  what a difference did it make on my sunken eyes! Before I give you the fine points of my 'eye bright' experience, let me just explain why I wasn't expecting a lot. It's not that the reviews were bad or I've heard something negative about the product. Otherwise, I wouldn't get it! It was just my 'luck', so to say, with eye creams, gels and serums. Before trying the DHC Eye Bright Gel, nothing, and I really do mean nothing, helped with my deep dark circles. Thus, I wasn't expecting this gel to be any different compared to your regular eye moisturiser. However, I needed a new eye cream, so I got this one.
What DHC Eye Bright Depuffing Gel claims to do is to hydrate the delicate skin around the eye area and reduce the puffiness. The gel is infused with calming cucumber, Sodium hyaluronate and caffeine. It has a clear appearance and doesn't smell. Once I applied it under my eyes, the gel was instantly absorbed! And, yes, my circles were reduced in less than a few minutes! This is the absolute truth as I clearly remember asking Vlad if he thinks my eyes look brighter. He was amazed at how quickly the gel worked. So, there you have it, the DHC Eye Bright Gel is a pure miracle for your dark circles. The only downside I want to mention is that after a few months of using the product, my under eye area probably got used it as the results weren't that amazing.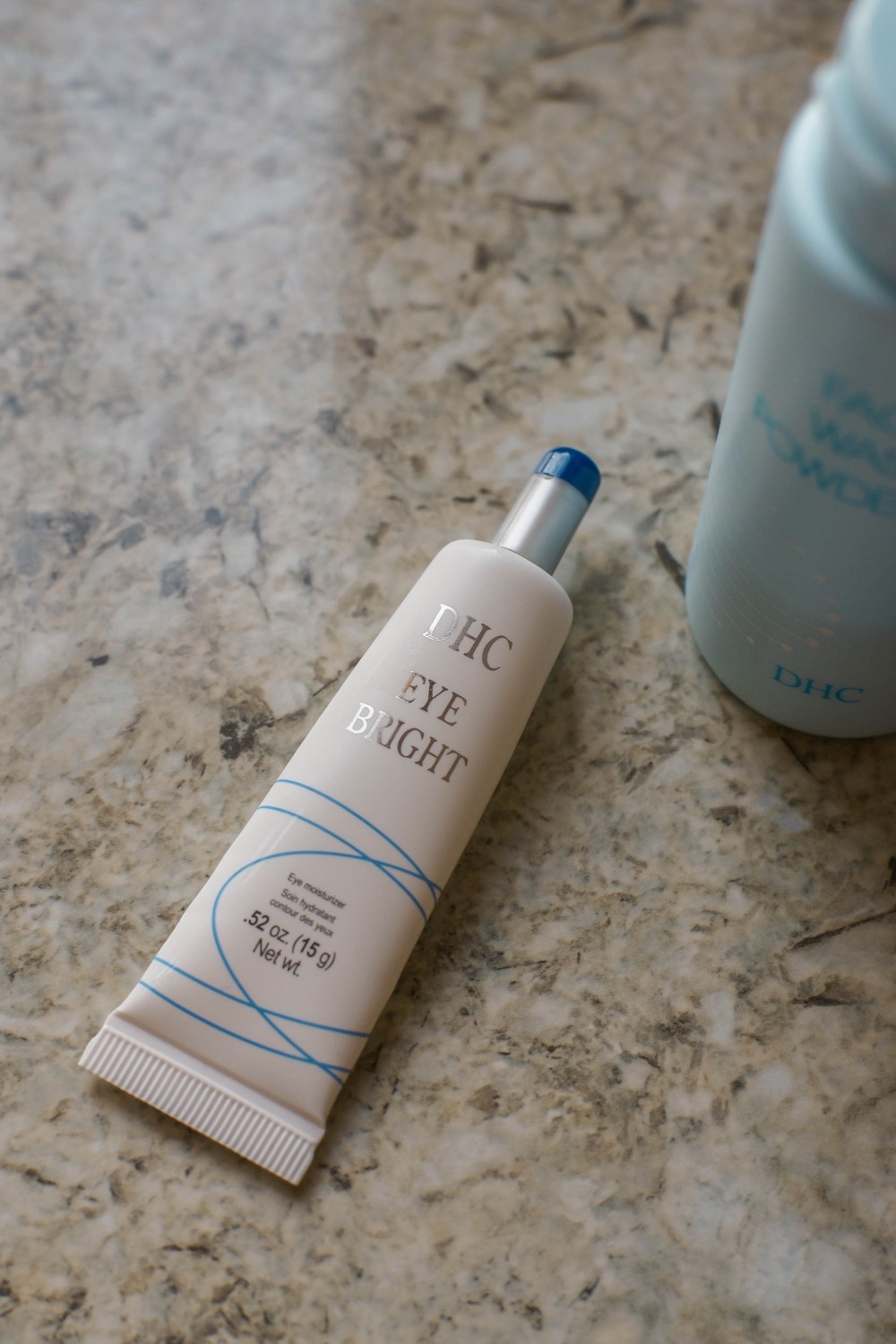 I would suggest switching between products to make sure you're not getting used to a certain ingredient. Personally, I like to give myself a break from my favourite skincare products and go back to them in a few months' time. Thus, once I finish my current eye cream, I'll gladly go back to the DHC Eye Bright Gel.
Have you heard of DHC before?
Have you tried any of their products?
Click here for more skincare tips and product reviews!
YOU MIGHT ALSO ENJOY:
Avène Hydrating Cream, Moisture Mask & Barefaced Rice Oil Mask Review
L'Oréal Favourites: Smooth Sugars Scrub, Pure Clay Wash & More
Vichy Products: Liftactiv, Masque Peel, Nutrilogie, Aqualia Thermal